Challenging thoughts that are irrational and negative is an important part of reducing anxiety. This is one of the key principles in cognitive behavioral therapy that I stress as a therapist and counselor to my clients.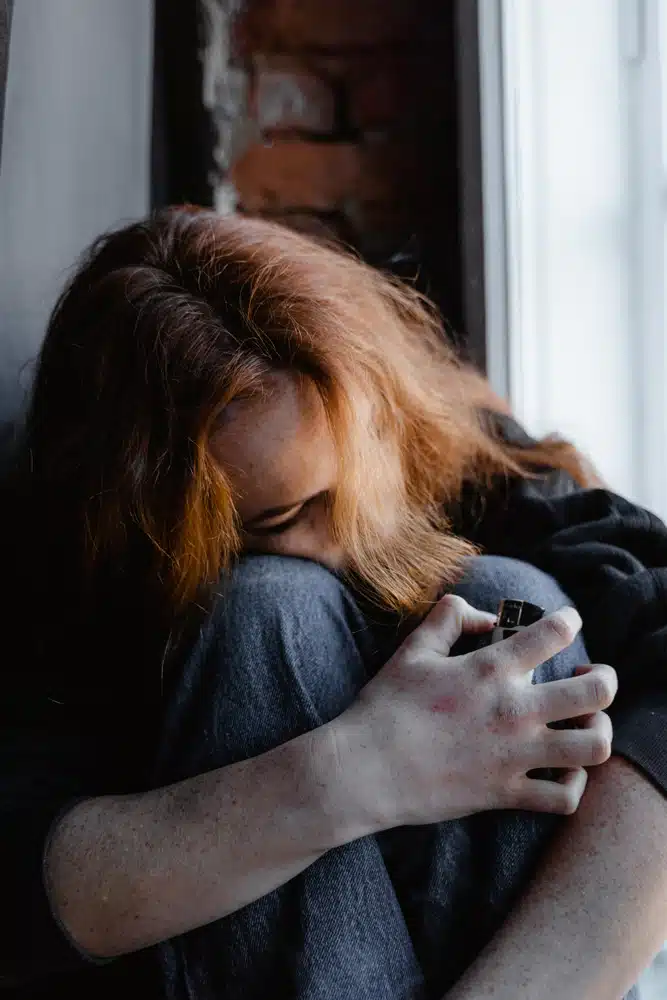 CBT for Anxiety
When people have thoughts that make them feel anxious, well, it can feel very overwhelming. These thoughts can feel constant and on a nonstop loop. When these thoughts are consistently bombarding you they can start to seem like they are real. And when the negative and irrational thoughts start to feel real, it becomes even harder to dismiss them. The best way to get the anxious thoughts to stop is to challenge them and show yourself that they are not based in reality.
As human beings, we tend to want to think in reality and believe what we think and know is right. If you consistently show yourself that the thoughts that are making you feel anxiety are not true and not based in reality, then your brain will kick in and want to correct and dismiss them. Cognitive behavioral therapy is a wonderful mental health technique to help you challenge these anxious, irrational, and negative thoughts.
The CBT Thought Challenging Chart
Using a thought challenging chart is one of the best ways to show yourself that what are you are anxious about is completely irrational.
Take a piece of paper and draw 7 different columns. In the first column, write down the situation in which you were feeling anxiety. Write down:
where you were
what time of day it was
what you were doing
and who you were with.
In the second column, write down the feelings that you were experiencing at the time and rate them on a scale of 0-100.
In the third column, write all the negative thoughts that came up in your mind.
In the fourth column write down any evidence that you have that shows that these thoughts are true. Usually this is hard to do, since these thoughts are most likely irrational. You might not find any evidence to support that they are true.
In the fifth column, write down any evidence that you have that these thoughts are not true. Usually you will see a large contrast in the amount of evidence you have supporting your negative thoughts and the evidence against them.
Now look back at these two columns and take them into consideration. This is the point where people see how their negative thoughts are not based on reality!
In the sixth column write down an alternative thought to counteract your negative thoughts from the third column. Write a more positive and realistic thought that can replace the negative one. You can also write a positive affirmation in this column to counterbalance your original negative thought. Read my article on how to create positive affirmations by clicking here.
In the seventh column rate the same emotions that you had previously rated in the second column. Usually, by this point, you will feel much better after seeing all the evidence proving that your anxious thought is not true.
This mental health technique is quintessential in challenging irrational and negative thoughts that cause anxiety. As a therapist and counselor I always stress to my clients to complete this chart any time they feel anxious about something. Try using this chart the next time you are confronted with anxiety.
ABOUT ROBERTA ALVES:
Roberta Alves is a therapist and counselor at the Essence of Healing Counseling with in Ft. Lauderdale. She is a Certified Anxiety Specialist and has a high success rate with all of her clients in eliminating anxiety from their lives. She uses an evidenced based type of therapy called Cognitive Behavioral Therapy which has been proven to be highly effective in treating anxiety. Roberta is truly passionate about the work she does and loves serving her clients throughout Flordia online.